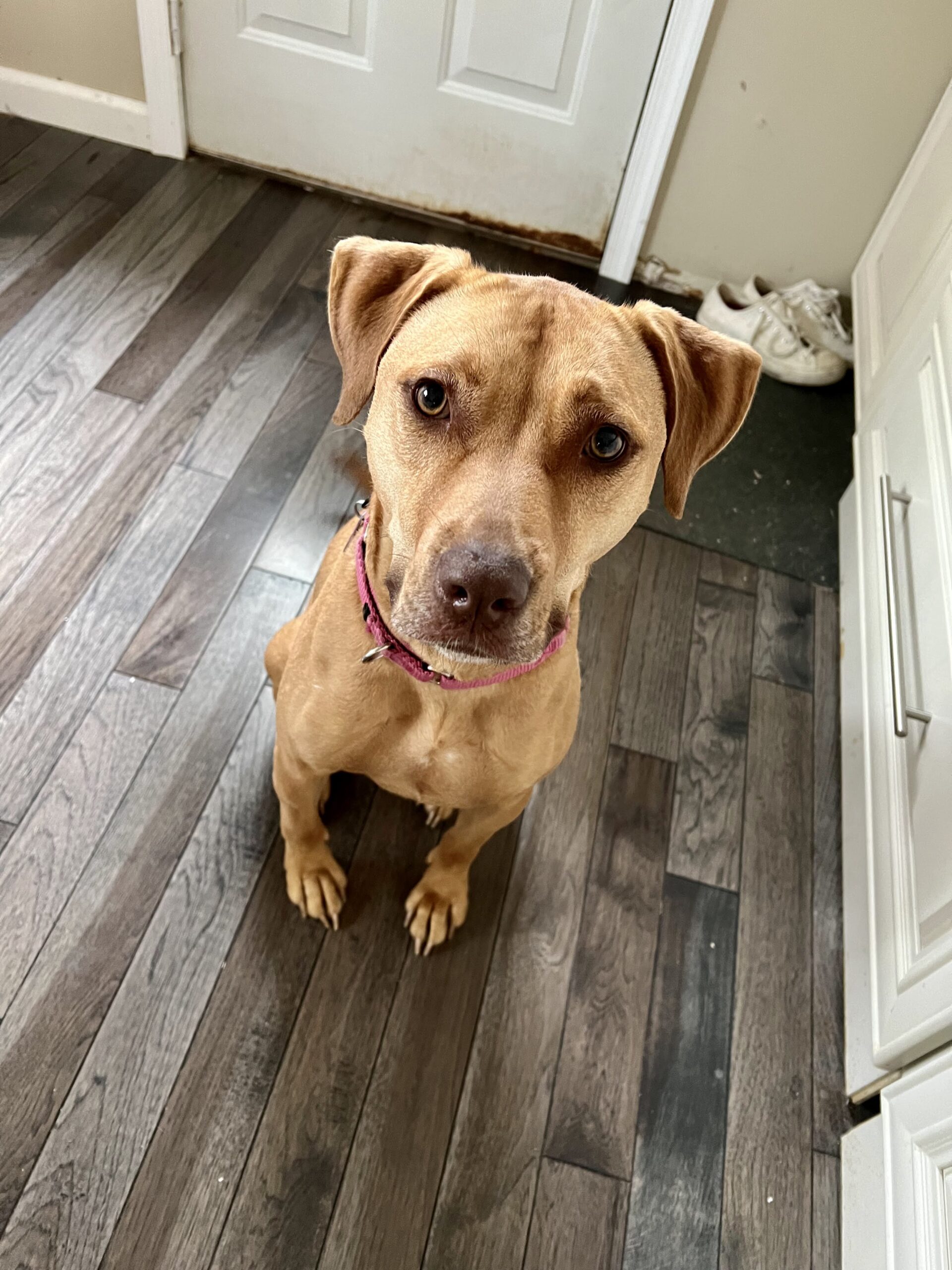 January 28,2023
Hazel is a sweet and sensitive girl who will melt you with her smiles and always have you giggling at her yoga stretches. Endlessly curious, she is energetic and playful and loves meeting people. She loves car rides (though her nerves sometimes get the better of her), hiking, and even took quickly to being a jogging buddy!
She's good with dogs, but because of her high energy level, she does best with bigger dogs that can either match her energy or not be too bothered by it. She loves to chase cats but learns quickly to back off with a good swat, so her ability to live with a cat is still unknown. She's house-trained and does really well on her own. We rarely use the crate, and haven't used it at all when we've left the house.
She joyfully bounds through the yard like a gazelle, and her outdoor galloping zoomies are a sight to see! She is a master squirrel and bird chaser, and fast as lightning! And the hose and sprinkler are two of her favorite things.
Hilariously unaware of her size, she will literally walk all over you and perch herself like a mountain goat in the most awkward places, but it's just because she wants to be close to you.
She still is a lot of puppy – having spent half her life in a shelter, she's still learning her manners when it comes to jumping on people, but she's smart as a tack and takes to training quickly. Her excitement with people just gets the better of her, but after a couple minutes, she's calm.
She also is very noise sensitive so would do well in a quiet, mellow household with people who can offer her a good balance of play, activity, and exploration, but also offer her a lot of patience and quiet safety. We think she would also do really well with another dog that can offer her some security and an added play energy outlet, but she will be good as an only dog too.
She loves to cuddle but because she has anxiety, she sometimes will prefer to hang out by herself, but usually isn't too far away from you. She has a lot of love to give and when she greets you with her big, toothy smile, you will feel like the most special person in the world.
If interested, please reach out to Carrie at cairgibs@gmail.com