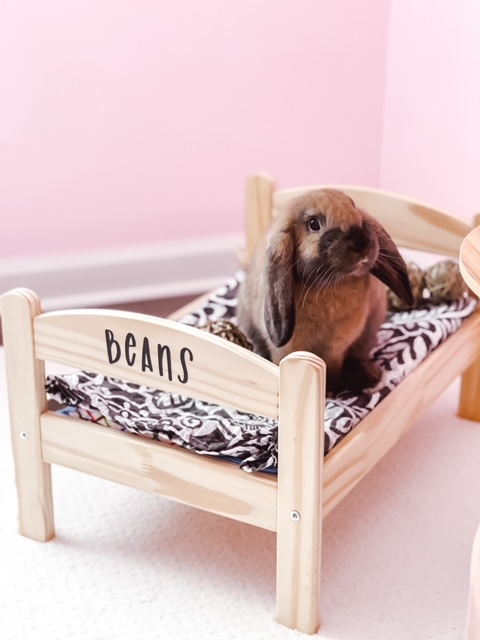 April 6,2022
Hello, my name is Beans.
I am an intact (not neutered) male Mini Lop, about 6-7 months old. I was purchased from a pet store by my mom, Emily Pierce. She did her research prior to adopting me, but was unaware of the medical issues she may face with not only herself, but my fur brother Boomer (3-year-old Rottweiler).
Unfortunately, I need a new home.
I require space to run around, access to water and hay 24/7. That is why an exercise pen will be available with my adoption to ensure adequate space to run around and stretch my legs.
My hobbies include chewing on sticks, eating veggies, binky-ing around and sleeping all day long after chewing on my cardboard house.
I am litter trained (with the occasional poop shoot while I am jumping around) and prefer my bedding be pine shavings with lots of hay and my litter box placed in a corner.
I currently eat young rabbit food pellets but will need to transition to adult rabbit food pellets here soon. My favorite veggies include Romaine Lettuce, Dill and Parsley. I also enjoy treats that are made from hay and occasional freeze-dried fruits such as Apples and Bananas.
I do not like to be picked up or held. I do not bite, but I will try to scurry out of your hands and might scratch you with my nails. I require patience when meeting me for the first time. I am very curious but please let me come around and warm up to you. I feel best when you are on my level to give me treats and lots of pets and butt rubs.
I come with a lot of toys, beds, treats, hay, bedding, etc. But most importantly, I come with Critical Care in case I get an upset belly. If you are not aware of GI Statis in Rabbits, please do your research for warning signs before bringing me home because this could be life threatening.
My family treats me like a King as I deserve and am really hoping my new home treats me the same way. I know they will miss me, but I am very healthy and know I can make a new family just as happy.
If you want to meet me or are interested in bringing me home, please contact my mom Emily Pierce at either 302-598-5393 or girlgonevinyl@outlook.com
I look forward to meeting you!