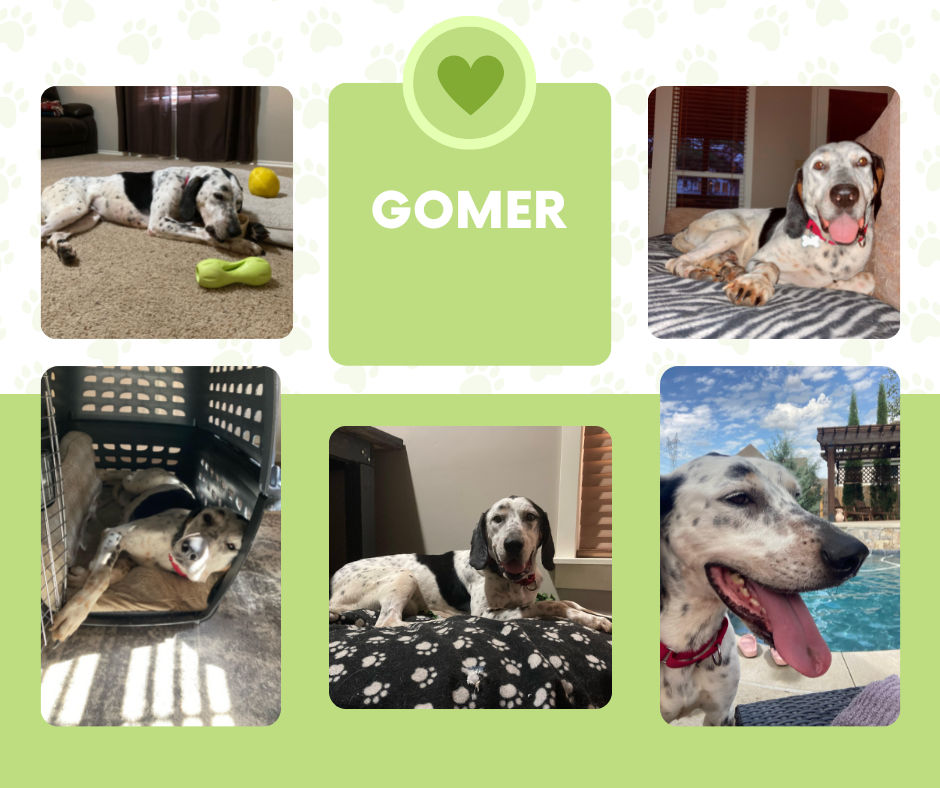 September 27,2022
*ADOPT ME!*
Gomer – 5 years old, located in Oklahoma
Dog ID#: 221354-P-D-SC
Intake Date: 8/8/2022
Available Date: 8/22/2022
Hi! My name is Gomer. I am about 5 years old and my foster family saved me from death row! I traveled for 2 days to get to my foster family and was a champ in the car. I don't remember anything before my time in the shelter.
I joined my foster family on August 8th, 2022, and weighed 58 pounds but was a little skinny. I bet I weigh between 60-65 pounds now! I do love to eat. And I sit really nice before my food bowl is set on the ground. I was a bit of a wild child when I first got to my foster family but I have learned a lot about being an indoor dog. I am proving to be a smart boy! In the beginning, I had several accidents in the house, but I had been in a shelter for 6 months prior. I haven't had an accident in quite some time, but my foster mom was really good about taking me out frequently. Now I go to the door when I need to go outside! Whoever my forever family is might need to continue to work with me on it. I still counter surf occasionally but it's a lot better. (I mean, if she leaves the peanut butter jar out and open, can you blame me for getting it?) I love my kennel and will go right in as long as I've had some time to play before getting put away. I sleep in there for more than 9 hours at night without problems. Usually, my parents are waking ME up in the morning. I get really excited in the backyard and try to sniff out any holes in the fence. I have also tried to climb the fence to get to some pretty birds, so I will need a secure backyard.
The best part of me is that I LOVE toys and act like a silly puppy when you give them to me! I will run and jump and throw them in the air. I also LOVE my foster parents 7 year old girl. She can mess with my ears, give me big hugs, roll with me on the floor, use my tail as a microphone, and play with my feet and I don't care at all!
I have done well with my foster parents' other two dogs although I don't interact with them much. I prefer to be around humans. I like to hang out and sleep or chew on toys/bones a lot. I am pretty low energy for a pointer. I am kept in my kennel during the day when my foster parents are at work and I'm totally fine. I know I will find the BEST family perfect for me who will help refine my manners! If you are looking for a bit of a couch potato who wants to love you and play with toys, I am totally your handsome man!
Gomer has been neutered and microchipped. He is also up to date on vaccines. We were thinking that Gomer may possibly be a mixed breed. But, his vet believes he is just a pointer.
Can you offer Gomer a forever home? Please fill out an application with his rescue, PRO, here: http://www.pointerrescue.org/adopt.html
TRANSPORT IS AVAILABLE TO APPROVED HOMES! (currently within 1,500 miles)