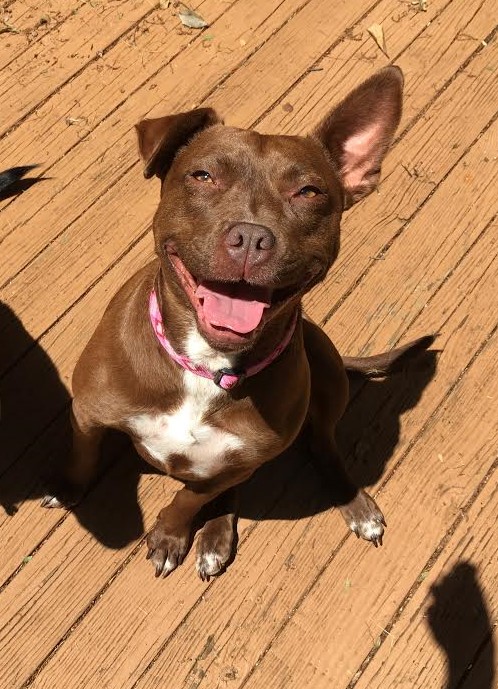 March 20,2021
Courtesy rehoming for Cocoa. Contact Julie at (302) 650-7806 or adoptcocoapuff@gmail.com for more information!
Cocoa is an 8 1/2-year-old 38 lb female Staffordshire terrier mix. We rescued her when she was 1 1/2 with a broken back leg and mange, nursed her to good health and she got along great with our old dog, and later on, she helped us raise our puppy.  Currently, we have 1 and 3-year-old children who have known Cocoa since birth.  Cocoa is really good with the kids and stays with them all day. The only time I get a little nervous is when the kids shove objects in her face or are playing with loud toys, so I make sure I'm nearby when they're together and nothing has ever happened.
She has always lived with another dog and they have gotten along well.  Unfortunately because of the mange, we did not socialize her with other dogs initially and she has always been aggressive toward unknown dogs.  She has gotten off our property twice and went after dogs being walked in our neighborhood.  (Recently our child opened the gate.) Fortunately, no one was seriously hurt and the authorities were never involved.  After this second incident, our neighbors expect us to get rid of her and I also fear with our kids we can't guarantee this won't happen again.
Cocoa loves to cuddle and sit with the family on the couch, walks on a leash, plays catch, and has basic commands down.  She has a high prey drive, yesterday she chased a snake out of our yard.   She has some arthritis in her back leg and at her recent vet visit, they suggested doing some dental work.  I would be happy to pay for the dental work before adoption.  I also would be happy to pay for Cocoa's preventative vet care and food for the rest of her life.  Cocoa needs to be in a home with someone who can easily keep her from coming into contact with other dogs.  I would also suggest no kids under 8 years because of her anxieties, even though she has done well with our kids.
**PLEASE no judgment or harsh comments as this does not help the animals in need. The owners are in contact with staff at Faithful Friends to assist them in rehoming in an attempt to keep more animals out of the stressful shelter environment. If you have any questions, please reach out directly to the owner, as these animals are not in the care of Faithful Friends Animal Society.**