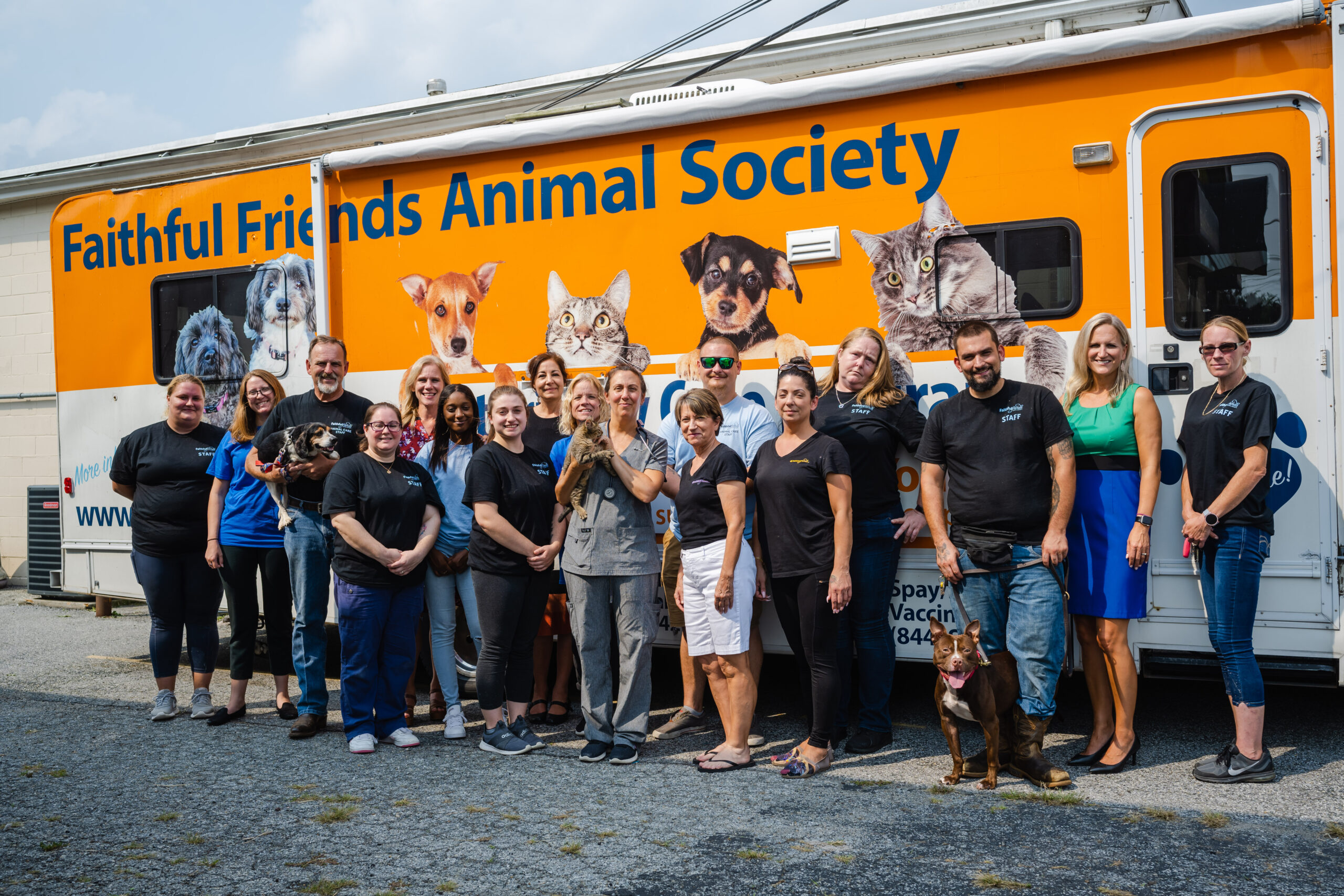 November 4,2021
The distinguished honor from the Delaware State Chamber of Commerce's Small Business Alliance (SBA) recognizes businesses and nonprofits for outstanding achievements and unique approaches to business and management
Faithful Friends Animal Society Founder and Executive Director Jane Pierantozzi proudly accepted the Superstars in Business Award at this week's ceremonies on behalf of "our passionate, talented and determined staff, volunteers and board members who led the charge to make Delaware the only state in the nation that's recognized as no-kill. We're very grateful to the chamber and the superstars award selection committee for this tremendous honor."
FFAS pioneered the no-kill shelter movement by mobilizing public and private resources representing government, business and nonprofit organizations
"One of my favorite quotes, 'Never doubt that a small group of individuals can change the world, indeed it is the only thing that ever did,' sums up our story. Twenty-one years ago, a small group of us set out to change the state's mass killing of homeless and abused pets entering publicly funded shelters. I'm proud to say that 15 years later, we've ended the 90% kill rate, with all shelters focused on saving lives."
Their journey to make The First State no-kill included leading the creation of Delaware's first spay-neuter legislation signed into law in 2006, which became a national model for animal welfare. It created a fund to help pet owners on public assistance and required shelters to spay/neuter pets prior to adoption.
In 2010, the agency led the creation of Delaware's Animal Shelter Standards Law, a national model for animal welfare. Shelters are now required to provide basic medical care to animals, extend the stray hold to include cats and publicly post animal outcomes.
FFAS's efforts also led to the formation of the Office of Animal Welfare in 2013 under the Department of Health and Human Services to oversee animal welfare services.
Their most recent achievement is the pet food manufacturing fee increase legislation they helped shepherd into law, which will put more resources into our state's animal welfare programs such as the spay/neuter fund.
"Through our leadership in state policy reforms, we also created the foundation for a statewide animal welfare system modeled after a child protection system. None of this could have been accomplished without our partners, including our Governors and state legislators who supported every reform we presented over the years, our Delaware-based shelter partners, and the individuals and businesses who generously invested in us because they shared our values."
From legislative reforms to a new, much needed facility designed to extend their lifesaving work
"Last week we took a transformative step in our history at our groundbreaking ceremony, where we launched the public phase of our Building Compassion Capital Campaign,  which will help us raise the remaining funds required to building our new 18,000 sq. ft. shelter, adoption and community resource center at 165 Airport Road, in New Castle. Named the Sharon Struthers Animal Adoption and Community Resource Center for our long-time volunteer and generous donor, the facility will be built on state-granted 27 acres by Bancroft Construction, slated for opening in the fall of next year. The moved from our small, cramped and aging industrial building to a modern shelter and sanctuary, equipped with standard-of-care features and ample space, is in our reach. But only with the support of our community."
Watch the video presented on Faithful Friends at the Superstars in Business Luncheon
Read the online article on Faithful Friends from Delaware Business