November 15,2022
Because Thanksgiving is a food-focused holiday centered around turkey as the main course, taking your celebration into plant-based territory can feel a bit intimidating. But let us assure you that hosting a vegan Thanksgiving dinner is not only 100% possible, it can feature dishes that are just as satisfying as traditional ones, packed with the same fall flavors we all know and love. The spiciness of pumpkin, the heartiness of a thick gravy, and the warm fluffiness of stuffing can all be accomplished in vegan-friendly ways—believe it or not—and we're here to show you how. Mustard-Glazed Brussels Sprouts? Pomegranate Orange Tart? Best Vegan Pumpkin Pie? Fall Harvest Quinoa and Kale Salad? How do you choose which to eat first?
Read the full list of recipes HERE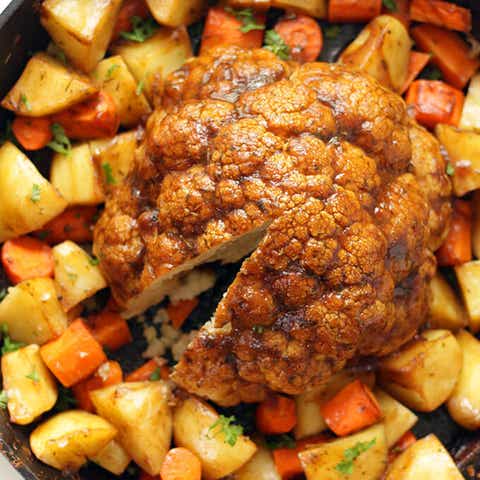 This entire head of cauliflower roasted in a soy-and-maple gravy will give turkey breast a run for its money as the centerpiece of the Thanksgiving table. Delicious, filling, and cruelty-free.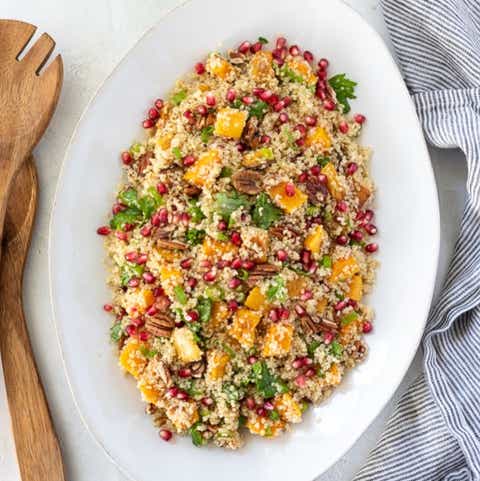 This side salad has almost every one of our favorite ingredients tossed together in one colorful bowl. Pecans? Check. Squash? Check. Pomegranate seeds? Check!