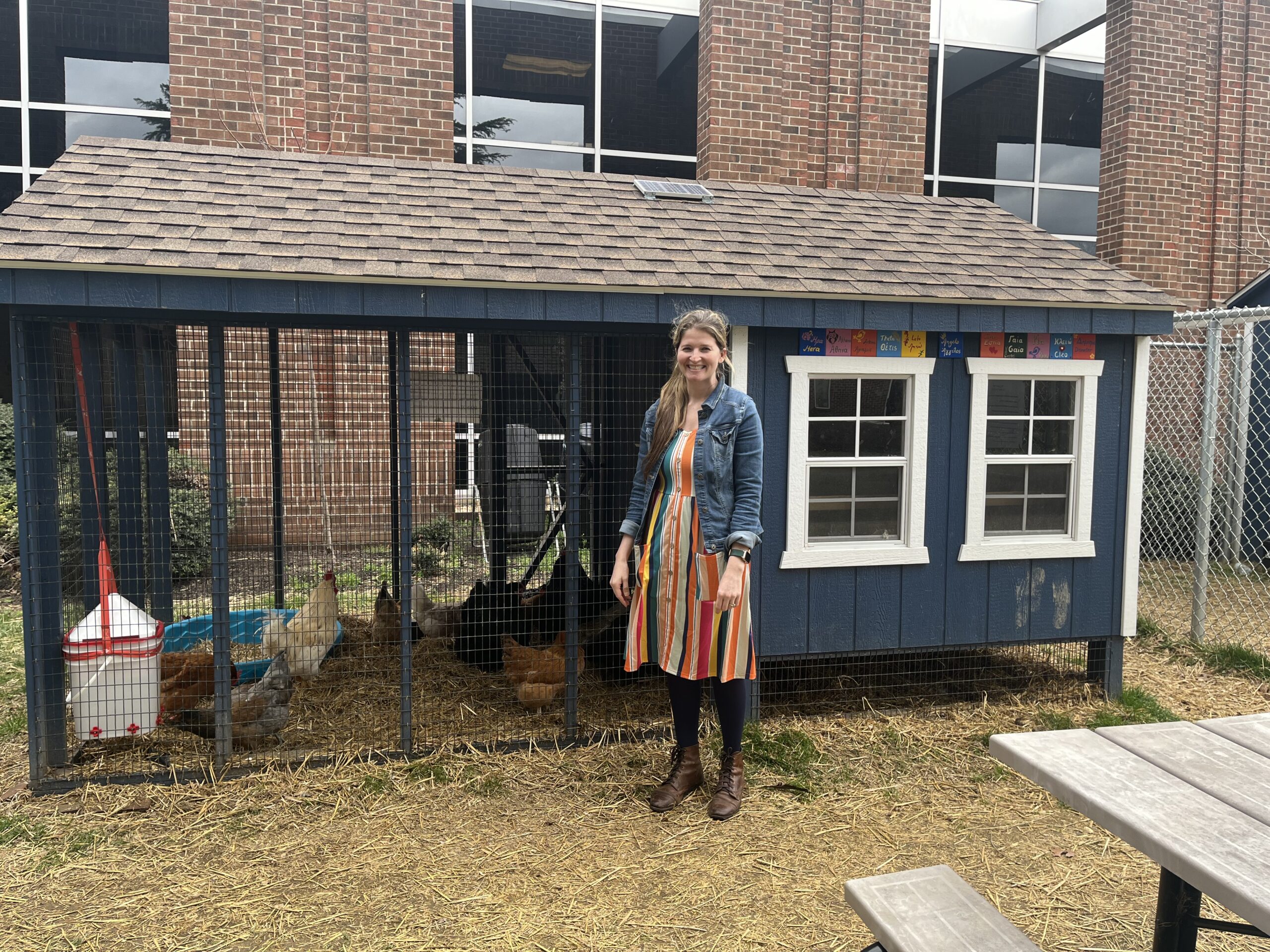 April 6,2022
Meet Angelo! 
Angelo was adopted from Faithful Friends Animal Society in 2019, after being surrendered to our shelter when his family could no longer care for him. Angelo was adopted by Melissa Tracy, a cross-disciplinary teacher at Odyssey Charter School, who was named the Delaware STEM Teacher of the Year. Melissa takes a hands-on approach to teaching her students Food Studies, a unique offering that merges history, environmental science, and other subjects. In this course, she and her students grow and maintain hydroponic gardens in the classroom that provide thousands of fresh fruits and vegetables to the school's cafeteria and community every month. Annually, they donate at least 3-4,000 pounds of fresh produce to people in need. They also have 3 goats and over a dozen chickens as part of this program. Angelo is one of two roosters on campus. Angelo and the other chickens help students learn about our food systems as well as the proper care for these animals. Each hen and rooster has been adopted through reputable sources, like Faithful Friends Animal Society and veterinarians in the area. 
It's been a tough couple of years for everyone, including students at Odyssey Charter School. In addition to helping the students learn, Angelo provides emotional support for students who want to sit and chat, without fear of judgment. 
The roosters and hens at Odyssey Charter School are cared for 7 days a week with the help of teachers and students. They live their life in a loved and kill-free environment. Students from kindergarten through their senior year get a chance to interact with the animals in different capacities throughout their time at the school. Each student learns in different ways and Angelo helps provide a unique learning environment for students to thrive. 
Students aren't the only ones thriving, Angelo is too! Angelo enjoys his space, interacting with other animals, and helping the students learn. Faithful Friends is very happy to support this initiative and we're thrilled that Angelo is able to be a part of it!
Watch Angelo HERE