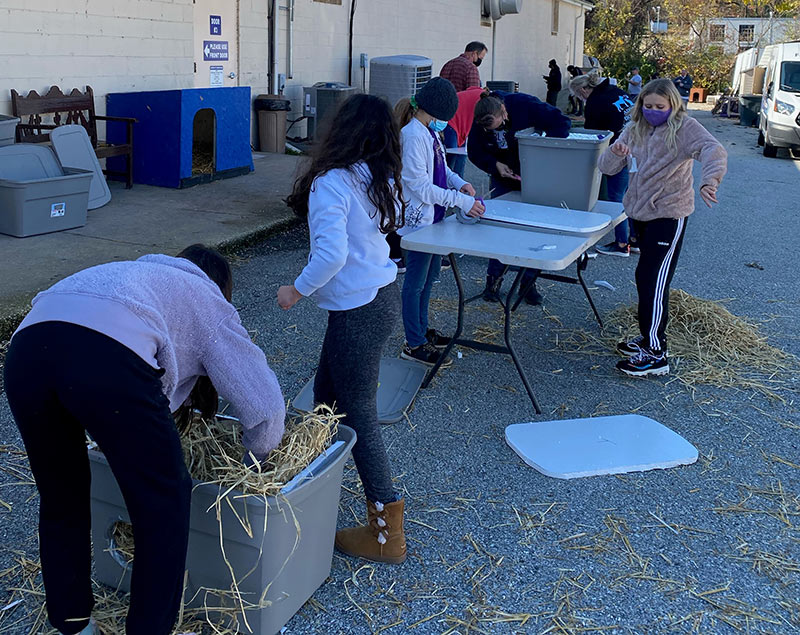 November 25,2020
WILMINGTON, DE, November 25, 2020 – Delaware has made great strides in the last 20 years in advancing protection for abandoned, orphaned, and abused cats and dogs. However, cat abandonment and overpopulation continue to overwhelm our state because cats have been left out of the animal welfare safety net.
In 2000, Delaware was euthanizing over 25,000 animals a year in publicly funded shelters, and about 15,000 of those animals were cats. Today, it's understood that feral or semi-social cats do not belong in shelters (unless they are recovering from injury or illness), and should remain in the community where they are being cared for and fed by caring community members.
Providing Shelter
Each year, Faithful Friends gathers supporters together to build cat shelters to keep colony cats warm throughout the winter. This year, due to health and safety precautions, the organization asked small groups to construct and build cat houses. Donations to the shelter's cat house building efforts support the project by covering the cost of supplies needed.
The organization set a goal to raise $5,000 for supplies and build a minimum of 200 cat houses. So far, $2,500 has been raised and 130 cat houses have been built, many having already been distributed to local colony caretakers. Thanks to commitments from additional groups to both raise funds for supplies and build the cat houses, Faithful Friends expects another 100-150 houses to arrive in the coming weeks.
Jane Pierantozzi, Faithful Friends Executive Director and Founder, states, "We are grateful for our individual volunteers and small groups for being a part of our extended team of advocates who are willing to help support community cats. Our top policy issues as we move forward with our mission is to work with the State Legislators, the Office of Animal Welfare, and our shelter partners on additional resources to ensure a free, statewide spay/neuter program for community cats; and to expand adoption support resources for adopted cats in order to avoid pet abandonment."
If you are a colony caretaker in need of cat houses:
Email info@faithfulfriends.us to be put on a waitlist. Provide your name and the number of houses needed.
Other resources:
All Delaware shelters now provide low-cost spay/neuter for cats. Many animal shelters also provide low-cost spay/neuter for community cats through Trap-Neuter-Release ("TNR") programs as well as free pet food banks to help pet owners and colony caretakers.