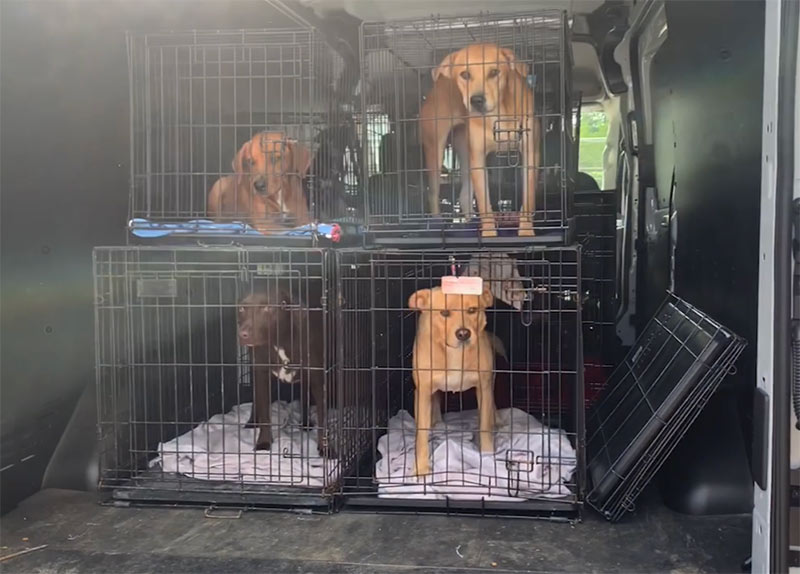 August 22,2020
Faithful Friends Animal Society works with local shelters throughout the State of Delaware to coordinate transports from high-kill shelters in our neighboring states as well as southern states. While Delaware dogs are our top priority (as are cats), we help dogs from other state shelters and rescues, as we have space, to continue our work to end the killing of easily adoptable dogs from their communities. We coordinate multiple transports throughout the year. For this transport, we partnered with three other Delaware shelters, and with One Love Animal Rescue to collectively save sixty-six dogs from high-kill shelters in northern Georgia and South Carolina.
One Love Animal Rescue gathered the dogs from their shelters and brought them up to Milton, Delaware where all three local shelters met to pick up the dogs they were bringing to their shelters! Faithful Friends was able to take twelve dogs, some small, some large, some young, some seniors! Prior to being transported, the dogs were pulled from the shelters and placed into foster homes to quarantine for two weeks until transport.
Once the dogs were transported from Milton to Faithful Friends, the arrival process began. Our dog staff carefully removes them from the van to get them prepped for a nice long walk. After all the dogs are removed from the van, our staff begins putting martingale collars on each of them. All of our dogs wear martingale collars for their safety since they are non-slip. One at a time, the dogs go on a long walk to stretch their legs after their journey.
From their walk, they go directly into the clinic to be assessed by our medical team. They are each given any shots that they need, we take their weight, and check to see if they are spayed and neutered. After the clinic, they are brought back to their kennels. The first few days after transport, the dogs have time to decompress and relax before being shown to any potential adopters. We allow the dogs time to acclimate to their new surroundings and environment and let them become familiar with their new caretakers. Once the dogs are ready, our team uploads them to the website and begins promotions on Facebook.
The next part of their journey is finding a loving, forever home.