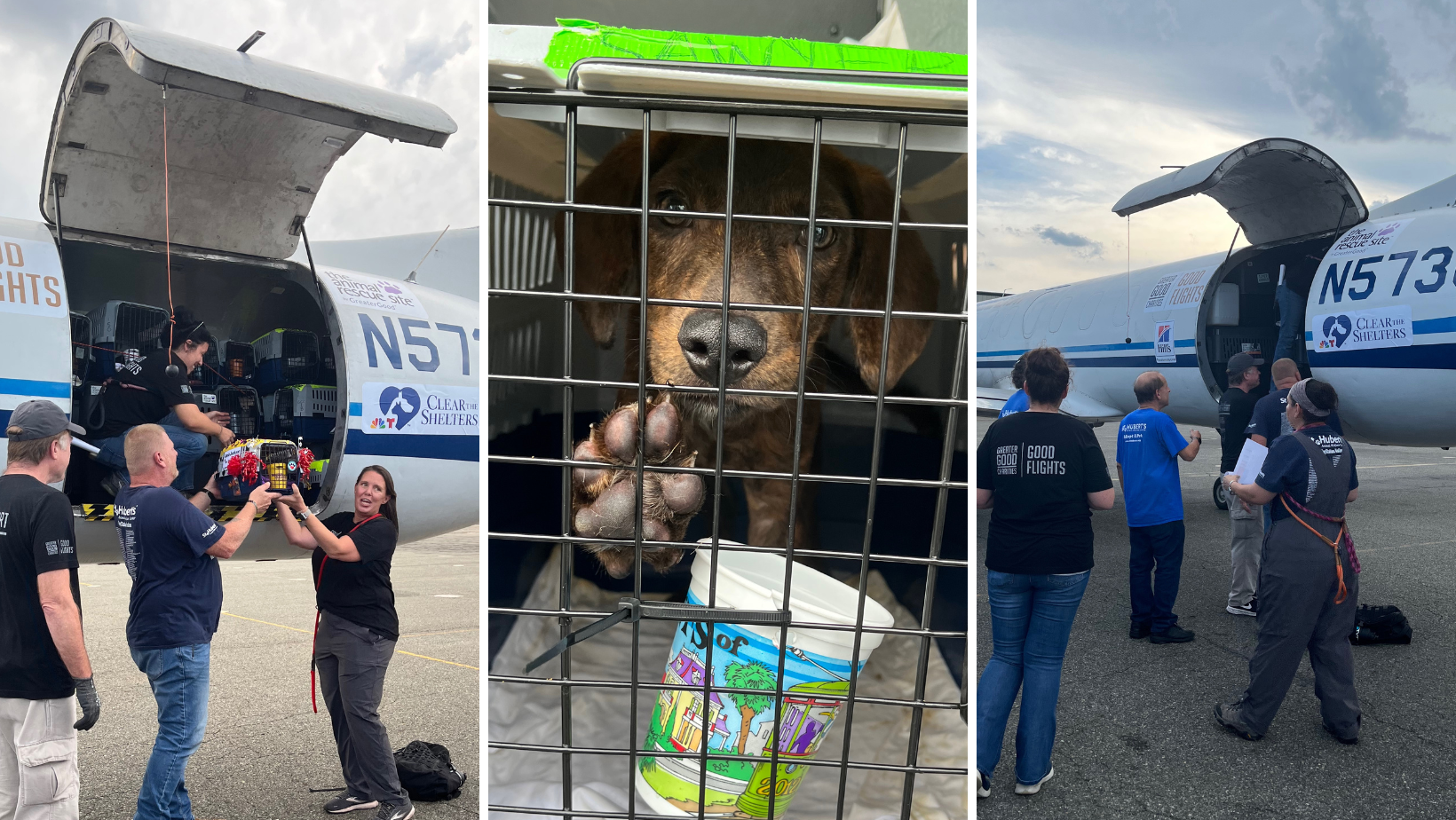 September 1,2022
Wilmington, DE. August 30 – Faithful Friends Animal Society (FFAS) joined NBCUniversal Local, Greater Good Charities, The Animal Rescue Site, and Hill's Pet Nutrition on a second life-saving pet airlift of NBC and Telemundo stations' 2022 Clear The Shelters pet adoption and donation campaign, yesterday, Aug. 30. The collaboration of partners conducted the first transport on Aug. 2 to kick off this year's 'Clear The Shelters'.
The flight yesterday transported more than 140 at-risk dogs and cats from overcrowded shelters in Louisiana and Alabama to New Jersey where FFAS met the flight crew before transporting 9 dogs back to Delaware. Eight other shelters from Delaware, Pennsylvania, and New Jersey participated in this effort.
Yesterday's airlift from Louisiana to Morristown, NJ, included vulnerable pets, like asymptomatic heartworm-positive shelter dogs, homeless cats, and hard-to-place large dogs. The plane held more than 110 dogs and nearly 30 cats, which departed from New Orleans Lakefront Airport and arrived at Morristown Airport's Atlantic Aviation Tuesday morning.
Upon arrival, the pets were taken to New Jersey's St. Hubert's Animal Welfare Center, Animal Welfare Association and SAVE, A Friend to Homeless Animals; Delaware's Faithful Friends Animal Society, and Delaware Humane Association/Delaware SPCA; Pennsylvania's Animal Care Sanctuary and Pennsylvania SPCA; New York's Dutchess County SPCA; and Virginia's Lucky Dog Animal Rescue.
Lynn Garcia, Program Manager, Waystation at St Hubert's stated that it was "a beautiful day" to see all the animals being rescued and shelters coming together
The animals began their journey at Louisiana's Acadiana Animal Aid, Cara's House, Iberville Parish Shelter & Animal Control, Lafourche Parish Animal Shelter, St. Charles Parish Animal Shelter, St. Martin Parish Animal Shelter, Terrebonne Parish Animal Shelter, and Lafayette Animal Shelter & Care; and Alabama's Save a Pet (Dothan).
The airlifts are part of Greater Good Charities' Good Flights program and are funded by Hill's Pet Nutrition and The Animal Rescue Site. In addition to helping fund the flight mission, Hill's Pet Nutrition is donating more than 6,000 pounds of food to support pets at the participating sending and receiving shelters.
Greater Good Charities, a global nonprofit organization that works to help people, pets, and the planet, is the fundraising partner for Clear The Shelters, which will again feature online donations. Since 2007, Greater Good Charities has provided more than $400 million in cash grants, in-kind supplies, and programmatic support worldwide. Through Good Flights, Greater Good Charities conducts life-saving airlifts and supports ground transport for at-risk pet populations with a heavy focus on asymptomatic heartworm-positive shelter dogs, homeless cats, harder-to-place large dogs, and disaster relief pets.
Hill's Pet Nutrition, a subsidiary of Colgate-Palmolive and a global leader in science-led pet nutrition, is a national sponsor of Clear The Shelters for the fifth straight year. Hill's also supports shelter pets year-round through its Food, Shelter & Love program, which provides science-led nutrition to more than 800 shelters in the US and Canada and has helped more than 12 million pets find new homes since 2002.