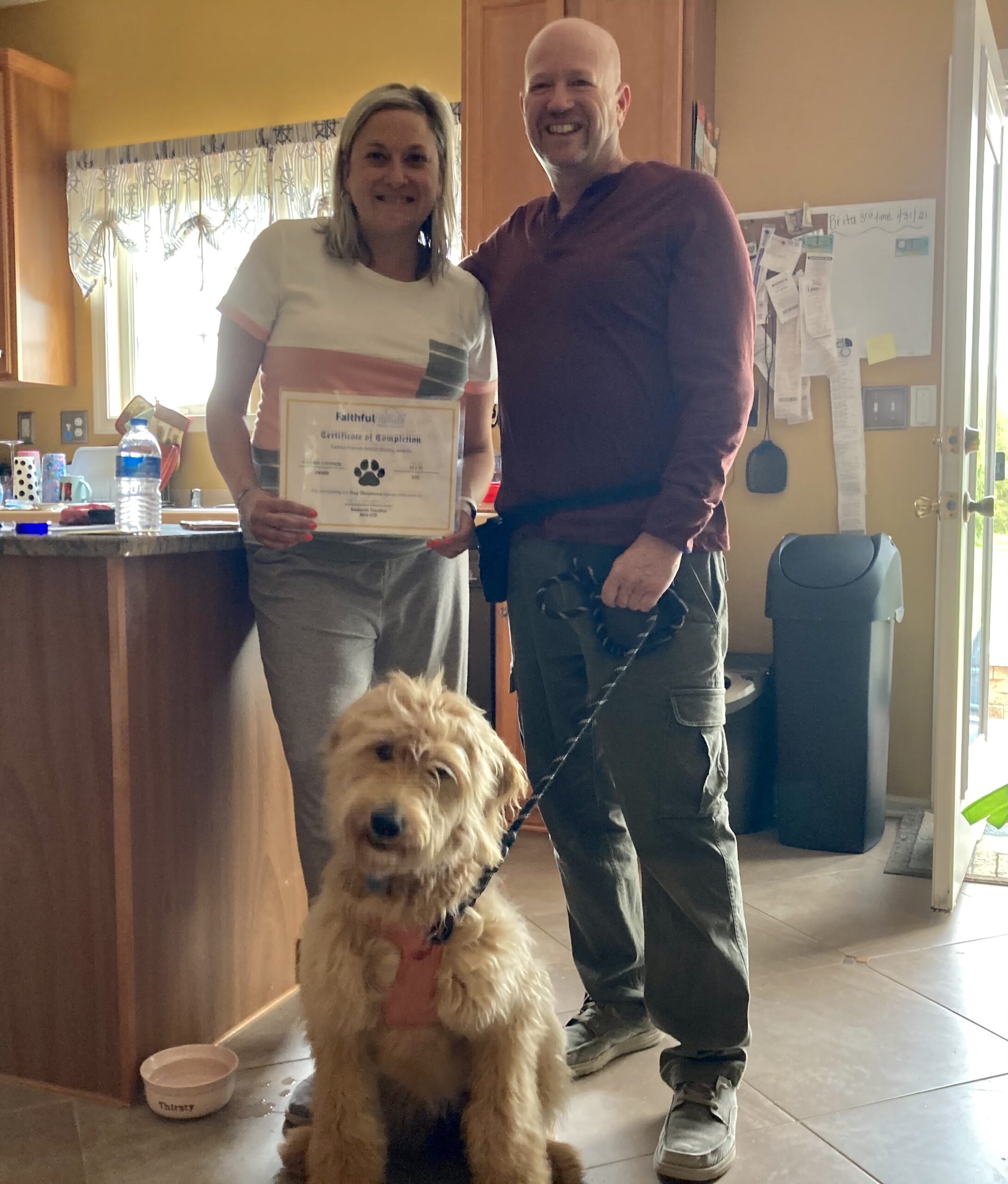 May 5,2021
As many of you know, we have two highly skilled trainers who offer obedience training to the public and FFAS Alumni! One of our trainers, Ben, recently finished a six-week course with a sweet Goldendoodle named Ellie. Ellie and her parents had nothing but praise for Ben and his work! Check out what they had to say about their time with Ben!
"We highly recommend Ben Touchton of Faithful Friends for dog obedience training, and here are the reasons why:
We brought our Goldendoodle, Ellie, home in December of 2020. We knew we wanted her to go through obedience training when she was the correct age. Our veterinarian at Summit Bridge Vet recommended Faithful Friends. I reached out to Faithful Friends and inquired about puppy training for Ellie. Ben Touchton responded to us after we completed the questionnaire about Ellie. From that point on, he always responded quickly to any emails we sent to him. He recommended that our best course of action would be for Ellie to complete the 6-week obedience course. We scheduled a date to begin, and we met with Ben at Faithful Friends for our first session without Ellie. Unfortunately, Ellie had a little accident the evening before Ben was scheduled to come to our house to begin the training. I reached out to him to inform him of her fall and asked if we could postpone the training. Ben was extremely flexible and agreed to postpone our training and even scheduled us to do so.
Ben met us at our home to train Ellie, which helped us feel safe and followed COVID-19 protocols. He had a structured curriculum and was always very thorough when explaining what he was doing in training. He gave us homework with clear goals for each week. From the first day he met Ellie, he earned her trust. When she would see him park and walk to the door, she would get so excited! She definitely had a case of the "wigglebutts" as Ben approached the front door every Saturday!
He worked with both of us on our individual techniques when training Ellie. He asked us specific questions about what we wanted to work on with Ellie. Ben helped us teach Ellie proper leash manners. She now walks beside us while walking her rather than her walking us. We also had a little trouble with leash aggression which with Ben's training has been resolved. During our last session, he even helped us teach Ellie to "wave," It proved how far we (John, myself, and Ellie) came in these six weeks of training!
We highly recommend Ben to anyone looking for a successful obedience training program. We truly believe the clicker training and positive reinforcement is the most effective method of obedience training. We learned so very much from Ben Touchton, and so did Ellie!"
To learn more about our training program, head to https://faithfulfriends.us/resources!