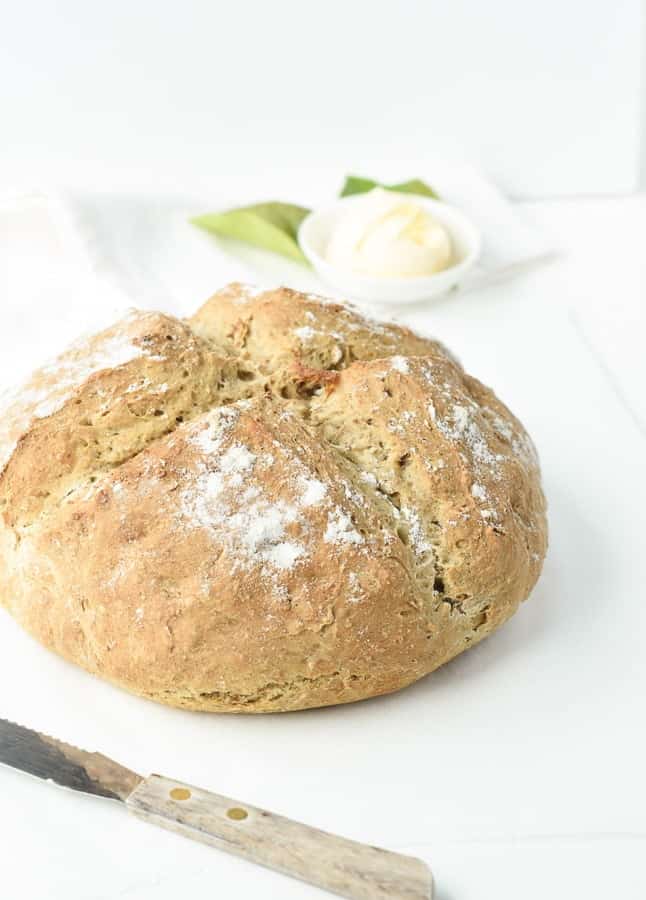 March 11,2022
Ingredients
3

 

cups

 

All-purpose Flour

 

or spelt

3/4

 

cup

 

Wholemeal Flour

 

or whole spelt or more all-purpose white flour or oat flour

1 1/2

 

teaspoon

 

Baking Soda

1/2

 

teaspoon

 

Salt

 

optional, can be made salt free
Vegan buttermilk
2

 

tablespoons

 

Apple Cider Vinegar

 

or lemon juice or any vinegar

1 3/4

 

cup + 2 tablespoons

 

Soy Milk

 

or oat milk or almond milk
To knead the bread
4

–

6

 

tablespoons

 

All-purpose Flour
Instructions
Preheat oven to 220°C (430°F). Line a baking tray with a lightly greased piece of parchment paper. Set aside.

In a medium-size mixing bowl, whisk soy milk with apple cider vinegar. Set aside for 

10 minutes

 until it thickens to a buttermilk-like consistency.

In another large mixing bowl, whisk together flours, baking soda, and salt.

Make a well in the center and pour the vegan buttermilk.

Stir the dough with a spatula at first. Then, when it becomes difficult to work the dough with the spatula, use your hands to knead the dough, adding more flour if needed to form a ball.

Knead the dough for 1 or 2 minutes maximum until you are able to make a ball. If the dough is very sticky, simply add white flour (up to a maximum of 1/3 cup) but be careful! You don't want dry dough, or the Irish bread will be very dense and dry. A stickier dough results in moist, elastic bread, and that's what you want.

Transfer the dough ball onto the prepared baking tray and flatten the dough into a thin disc of a maximum of 3 cm (1.5 inches) in height. This is extremely important, or the bread won't rise at all.

Cut a deep cross (1 cm deep, 0.4 inches) on top of the bread and sprinkle/pat some extra white flour on top of the bread.

Bake at 220°C (430°F), middle rack, for 

20-30 minutes

 or until the outside is crusty.

Transfer to a cooling rack for 

1 hour

 before slicing.

Store the bread at room temperature for up to 3-4 days, wrapped into a clean towel to keep its moisture.

Can be eaten plain or toasted with jam or mashed avocado. Or it can be served as a quick side to soup and salads.
Notes
Plant-based milk:
 This recipe reaches the best bread texture using regular soy milk rather than low fat or any other plant-based milk.
White whole-wheat flour: you must use fine white whole-wheat flour, not coarse whole-wheat flour. Coarse whole-wheat won't absorb the liquid enough, and the bread dough will be very sticky, and you will have to add a lot more white flour to achieve the same result.
Seeds and nuts: you can add up to 1/2 cup of seeds or chopped nuts in the bread dough like sunflower seeds, pumpkin seeds, linseeds, sesame seeds, chopped walnuts, pistachios, or almonds.
Sweetbread: you can also add up to 1/3 cup of dried fruits like apricots, cranberries, raisins, or dates to this bread.