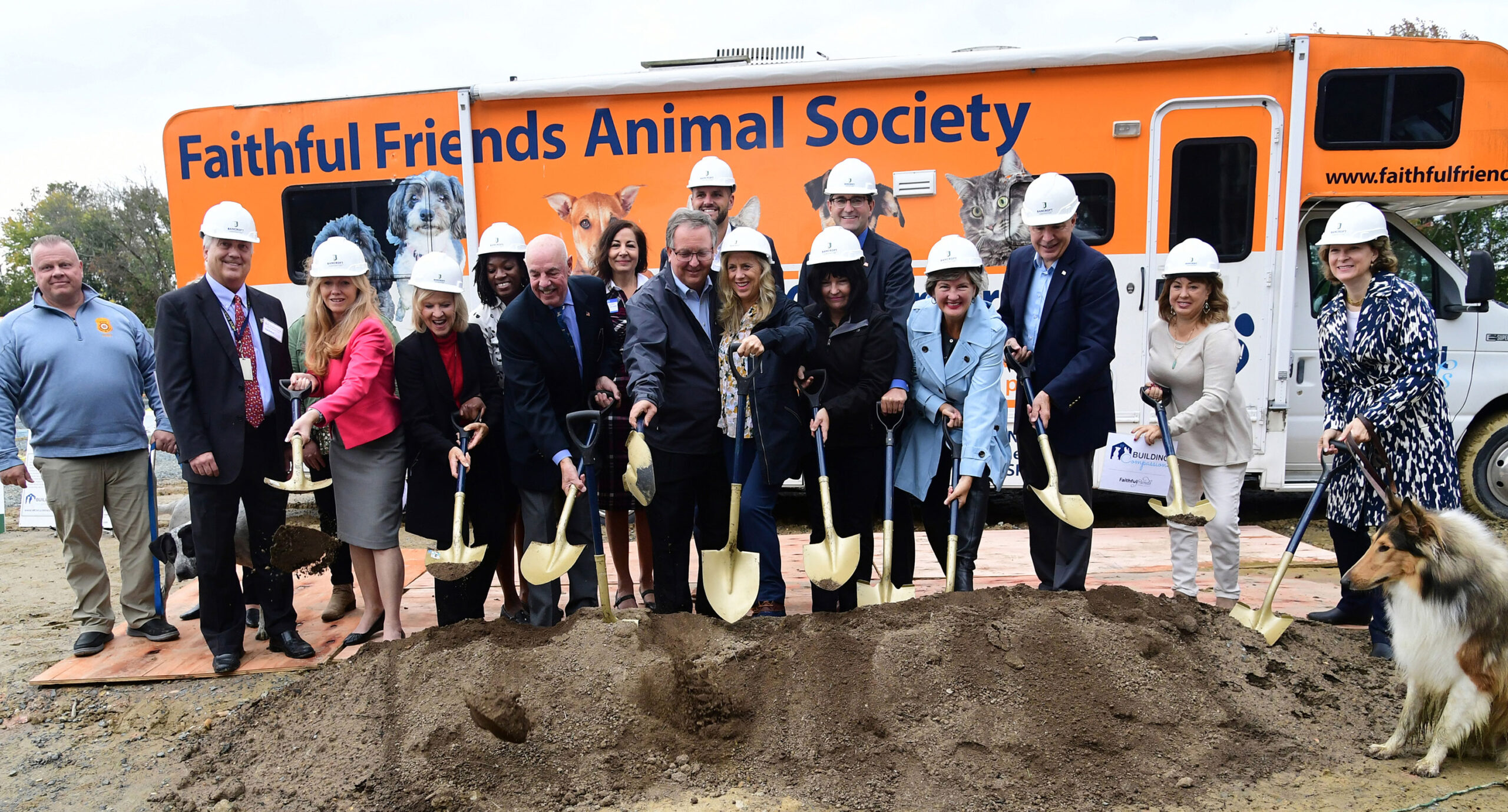 October 30,2021
Joined by local dignitaries and donors, Faithful Friends Animal Society (FFAS) breaks ground for new 18,000 sq. ft. shelter, adoption and community resource center at 165 Airport Road in New Castle, Delaware
On Tuesday, October 26, 2021, FFAS announced the kick-off of our Capital Campaign Community Fundraising Phase and unveiled the naming of the building, the Sharon Struthers Animal Adoption and Community Resource Center   ̶named for the agency's long-time volunteer and generous donor – to be built on state-granted 27 acres by Bancroft Construction, slated for opening in Fall 2022.
After more than 20 years, our dream of a modern shelter and sanctuary, equipped with all the standard-of-care features and ample space, is closer to reality. The move from the our small, cramped, and aging industrial space on Germay Drive to a new, modern center in a pastoral setting is long overdue, but is now within reach.
FFAS is considered the state's most trusted no-kill animal shelter that provides sanctuary, sheltering, and veterinary services for 17,000 pets and essential services for 24,000 people annually.  We recently received the Delaware State Chamber of Commerce's Small Business Alliance 2021 Superstars in Business award (nonprofit category). On Tuesday, October 26th, we held a groundbreaking ceremony for our new 18,000 sq. ft. facility, joined by Lt. Governor Bethany Hall-Long, Board President Bob Wasserbach, and other honored donors, volunteers, and guests.
Community Phase of Building's Capital Campaign Launches to Raise Remaining Funds
Wasserbach announced that while they have come very far with their fundraising goals for the facility, more work needs to be done. "Due to the enormous generosity of individual donors, corporations, and foundations, including a very generous gift from the Struthers Family Foundation to name the building, we've raised $6.7 million. Today we are here not only to celebrate our accomplishments to date, but we're kicking off the community phase of our Capital Campaign, Building Compassion (buildingcompassion.us).  Our goal is to raise another estimated $3 million, which will cover recent increases in supply costs associated with the pandemic."
State of Delaware 27-Acre Land Grant Makes Project Possible
Wasserbach added, "Without the generosity of the State of Delaware, none of this would be possible. We're so grateful to David McBride, former State Senator of this district and Senate Pro Tem, as well as the State Legislature, who helped us obtain this 27-acre tract of land."
Honorary guest Lt. Governor Hall-Long, emphasized the important lifesaving statewide animal welfare reforms FFAS led and the comprehensive essential services they provide to our community. "Thank you to the members of the General Assembly and the state for their generosity to make this facility possible. It was our State's confidence in FFAS's leadership that resulted in the land grant and bond bill capital support to make this facility a reality."
Some of the essential accomplishments of FFAS-led legislative reforms and services include:
In the first 15 years of operations, FFAS led key major reforms to establish the foundation for an animal welfare system that is now focused on lifesaving – moved our state from a 90% kill rate to a 90% or better lifesaving rate.
Established a free pet food bank, pet lifeline resource hotline, and a low-cost veterinary clinic that makes these vital services accessible to those with the greatest need.
This year, FFAS successfully led the creation of a law that increases pet food manufacturer fees, which will add to the state spay/neuter fund to help low-income pet owners, shelter and animal rescues statewide.
Community Generosity is Making Our Dream a Reality
FFAS Board Member and Capital Campaign Co-Chair Jeff Bross, said, "I'm here to recognize the many, many generous individuals, foundations, businesses that have made this day possible, and that are making our dream a reality. We consider all of our donors to be partners on this project. Every gift is special and important to us. We look forward to acknowledging our leadership donors at our open house."
FFAS Would Find it More Challenging to Fulfill its Mission Without the New Facility
Jane Pierantozzi, FFAS Founder and Executive Director, said, "I'm so overwhelmed today. Overwhelmed by the show of support today and overwhelmed by the generosity of the community I call home. With all of you, we could not have become Delaware's most trusted no-kill animal sanctuary and shelter. And we would find it continuously more difficult to serve the community from our current location with its space restrictions, mounting building maintenance issues, and lack of green space for our furry friends. This transformative step will allow us to embark on the next phase of our mission to expand our services and to become the voice for all animals. We still have a way to go with fundraising and we hope more community members will participate in our campaign to help us complete the project."
Last year alone, FFAS:
Saved more than 1,500 cats and dogs
Placed nearly 1,400 cats and dogs in loving homes
Spayed and neutered over 2,500 cats and dogs
Served more than 4,000 cats and dogs through our low-cost community clinic
Counseled over 11,000 people through our vital pet lifeline resource hotline
Fed over 5,000 pets in response to pet owners' needs via a free pet food bank
Cared for more than 575 cats and dogs on any given day
Provided long-term sanctuary care for over 350 cats and dogs
More information including project updates and giving opportunities can be found on the Building Compassion Capital Campaign website: buildingcompassion.us.