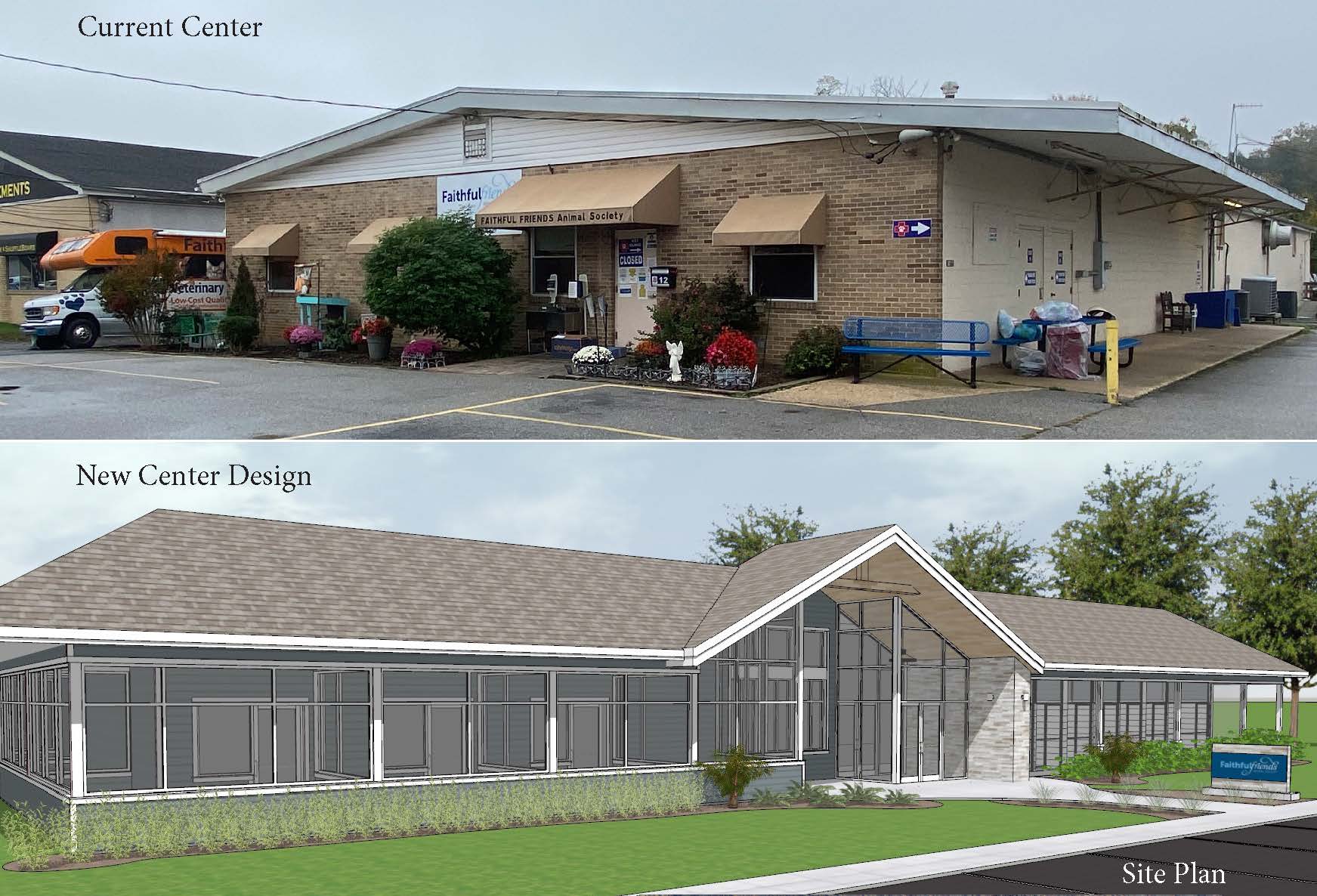 November 10,2021
Anticipated to open in Fall 2022, Faithful Friends Animal Society's 18,000 sq. ft. shelter, adoption, and community resource center at 165 Airport Road in New Castle, Delaware, is officially underway!
In the below birds-eye-view photo, you can see a different perspective of the new Sharon Struthers Animal Adoption and Community Resource Center. Step by step, the building is slowly coming together and an over 20-year dream for a modern shelter and sanctuary, equipped with all the standard-of-care features and ample space, is becoming reality.

Current Center
Adopt 1,500 animals a year
Industrial park, ¼ acre lot
10,000 sq. ft not designed for animals
Crowded for animals and humans
Outdated plumbing and HVAC systems
Walking dogs on a busy road
Few windows and lack of natural light
New Center
Increase adoptions by 25% a year
Desirable for visitors: Pastoral setting on 20+ acres
17,000 to 18,000 sq. ft designed for animals with the potential to add 10,000 sq ft more
Improved space/housing for cats and dogs
Modern plumbing and HVAC systems
Safe walking trails, and large play areas
Large windows and natural light throughout building
We're sure our supporters are as excited as we are to see all the progress happening. A lot has begun already, pipework has been laid and the outline of the building mapped out. The design team is currently in the process of finalizing the fit-out drawings. Installation of sanitary sewer, water lines, meter pit, etc. are in progress and the primary electric service was installed from Airport Rd. Installation of the under slab plumbing is being finalized and slab-on-grade work is expected to begin within the next week with structural steel to follow.
Faithful Friends is grateful for every donation to help us complete this monumental project. We are getting closer to completing our new home, but we cannot get there without your support.
For giving opportunities please go to: buildingcompassion.us