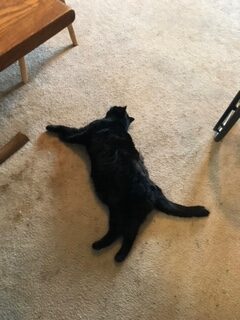 December 9,2022
A few weeks ago, a woman who used to volunteer with Faithful Friends, many years ago before moving to Baltimore, was in need of our help. She continued to volunteer at animal shelters in Baltimore, but unfortunately, it was not a no-kill shelter, like Faithful Friends. She fell in love with a cat named Charles, whose time was almost up. Without her adopting Charles, he would have been euthanized. She saved his life. However, she is now being placed in an assisted living facility that doesn't allow pets and couldn't take Charles with her.
She didn't want him to return to the original shelter, now 10 years later, he would have less of a chance of being adopted. Our cat Manager and foster coordinator took the trip to Baltimore and ultimately saved this cats life one more time.
Luckily, before being transported back to Delaware, Charles got to spend some time with his mom one more time. After arriving at the shelter, he took a nap in our Executive Directors office and is going into a foster home!