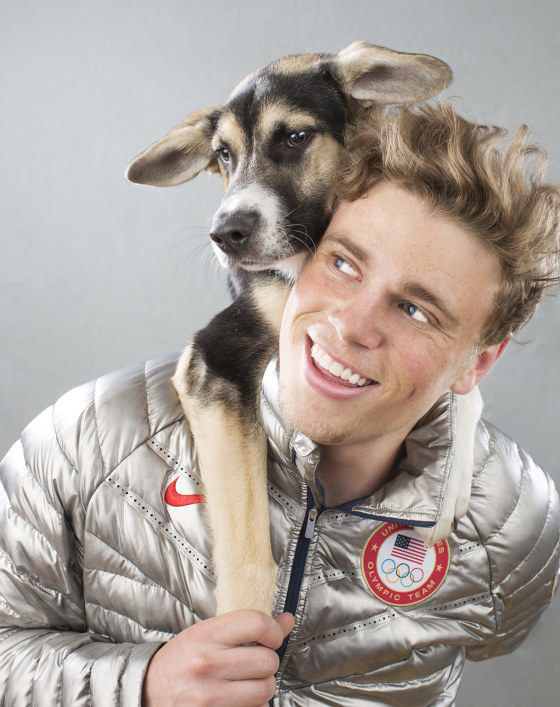 January 28,2022
Gus Kenworthy, who represented the USA at Sochi 2014, where he competed in slopestyle freestyle skiing, came back with more than just a Silver Medal.
Kenworthy became even more famous for rescuing strays from the Sochi Olympics, but several others brought home dogs from those Games. Snowboard cross star Lindsey Jacobellis rescued a pup, as did Amanda Bird, the marketing and communications director for USA Bobsled & Skeleton. Both, appropriately, named their dogs Sochi.
Kenworthy also helped rescue Jake and Mishka, who were part of a litter. He says he helped because Robin MacDonald, Kenworthy's boyfriend at the time, stayed behind an extra month and did the hard work of rescuing them.
But that wasn't the only time he came home from the Olympics with new furry friends. At the PyeongChang 2018 Olympic Winter Games, Ken and his boyfriend, Matt, rescued a fluffy gray-and-white pup, named Beemo, from a farm under cruel, neglectful conditions. Even though the skier wrote he was told that the dogs at the farm were kept in "good conditions" compared to other farms in South Korea, he still found that animals were malnourished, abused, and stuffed in tiny, dirty cages that were left exposed to the harsh elements, and felt the need to help.
Beemo wasn't the only dog who got a happy ending. According to Kenworthy, the entire farm he visited was shut down and all 90 of the dogs who were living there were flown to the U.S. and Canada, with help from Humane Society International, where they were available for adoption.
While Ken now represents Team Great Britain, we wonder if he has plans to bring home more rescued dogs this time!