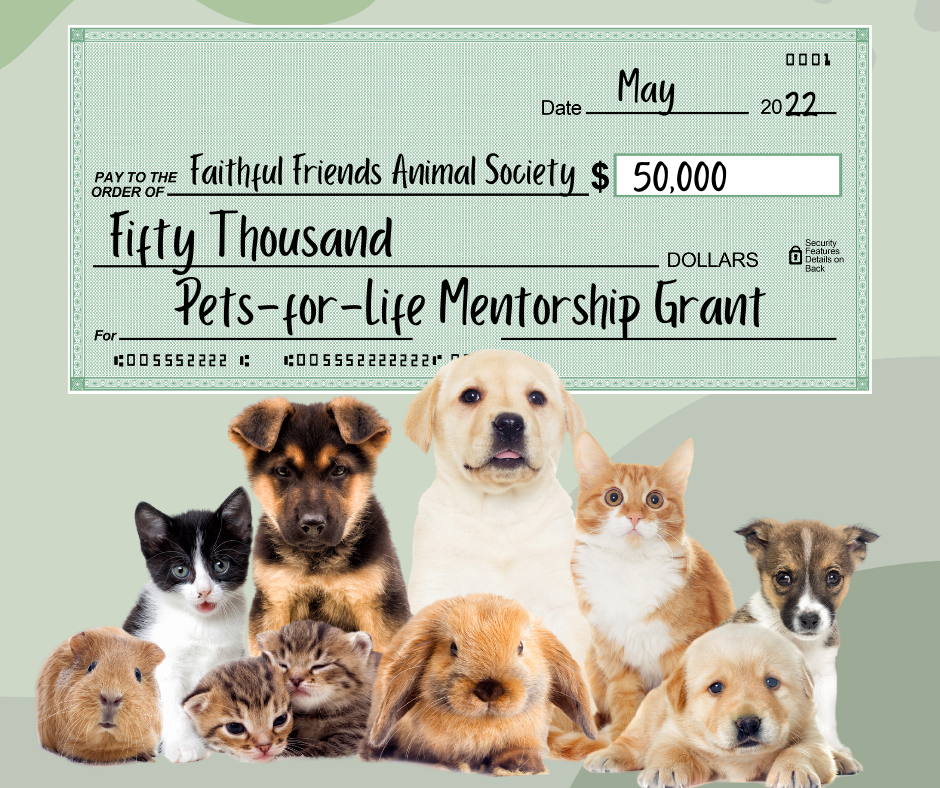 May 19,2022
Faithful Friends Animal Society Awarded $50,000 Pets-for-Life Mentorship Grant from The Humane Society of the United States
Inclusive Community Outreach Program provides needed support for pet owners in Wilmington and Newark, Delaware.
Faithful Friends Animal Society has been awarded a $50,000 Pets-for-Life Mentorship Grant to provide community outreach and pet-owner support with a focus on the underserved communities in the City of Wilmington and the Sparrow Run Community in Newark DE. This is the first time a Delaware-based animal welfare organization, shelter, and veterinary medical facility has received a Pets-for-Life Mentorship program grant from The Humane Society of the United States. A portion of the award will be used to support a Community Outreach Program Manager.
"Faithful Friends Animal Society has demonstrated an impressive initiative to address the inequity in access to pet resources that people in underserved areas experience," said Amanda Arrington, senior director of Pets for Life. "The Humane Society of the United States is proud to support Faithful Friends Animal Society in their unique role in Delaware to create a more just and fair animal welfare movement."
The core principle of the national Pets for Life philosophy is that no one should be denied the opportunity to experience the benefits and joy that come from the human-animal bond.
"The Faithful Friends Animal Society mission is intentionally inclusive and differentiates us from other shelters. The Board, leadership, staff, and volunteers are committed to supporting pets and their owners regardless of socioeconomic status, race, or ethnicity. This grant not only recognizes the unique role FFAS plays in Delaware; it will support our mission in two key underserved areas – Wilmington and Newark." explained Jane Pierantozzi, Executive Director of Faithful Friends Animal Society.
For Faithful Friends Animal Society's staff and volunteers, the COVID-19 pandemic became a bellwether moment as their services to underserved communities for pet supplies, pet food, veterinary medical care, and shelter was at an all-time high since its founding 22 years ago.
"On behalf of the thousands of animals who are loved and need to be loved in Wilmington by individuals and families, I express my thanks to Faithful Friends for bringing the Pets for Life program model to Wilmington," said Mayor Mike Purzycki. "To extend to more and more people the opportunity and privilege of providing a permanent home to an animal just increases what this brings to the human and the pet populations."