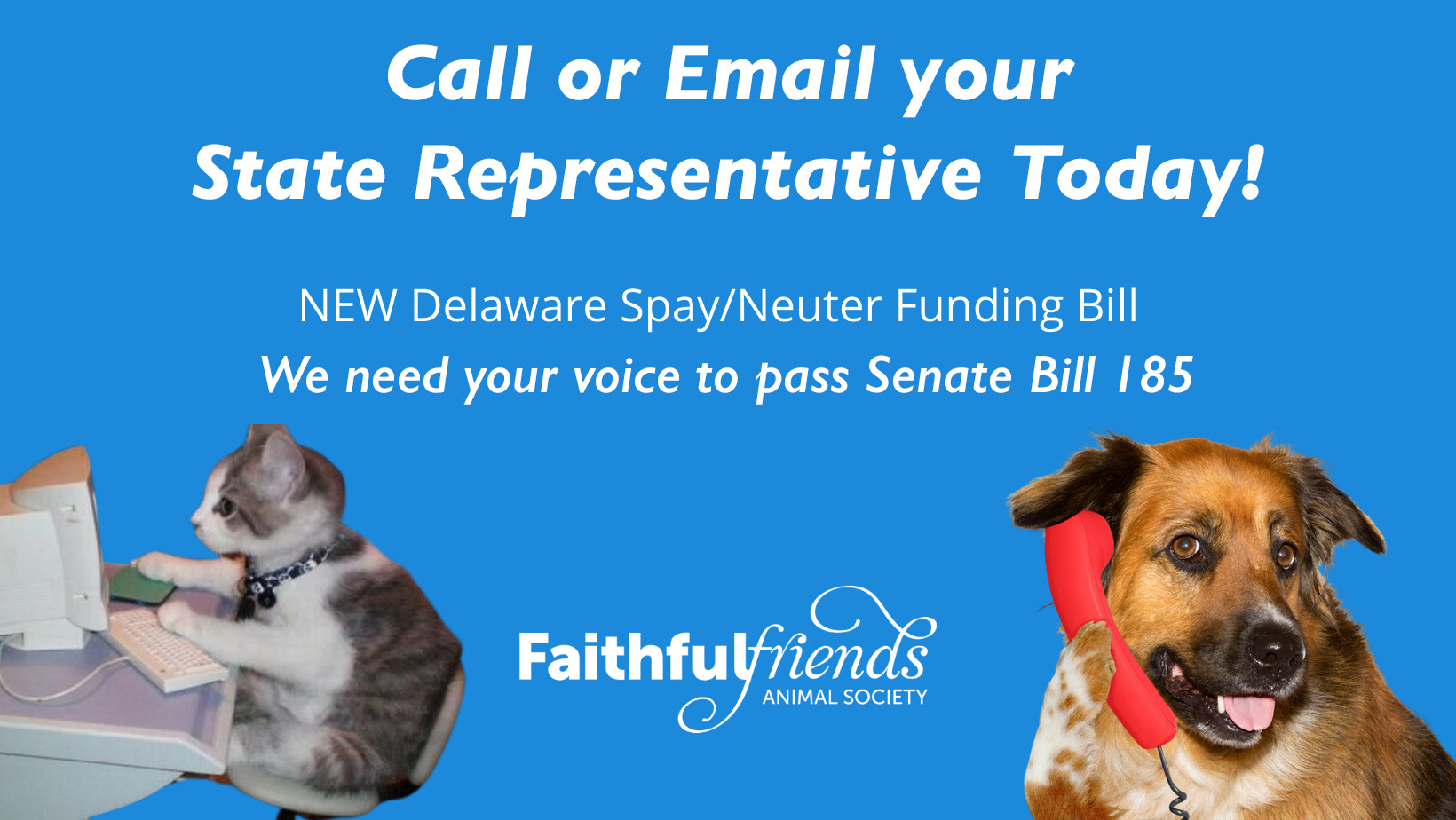 June 22,2021
Update: Thank you all for your support! Senate Bill 185 passed and has now become law!
We have led the creation of this transformative bill to add critical funds needed to support Spay/Neuter in Delaware, SB 185 sponsored by Senator Jack Walsh and Representative Kim Williams. SB 185 with SA 1 passed the Senate last week and we are so grateful for your calls and support.
TIME FOR MORE ACTION!
Now, we need the members of the Delaware House of Representatives to bring SB 185 with SA 1 to the floor and vote YES too! Please email or call your state representative today and urge them to bring this bill to the House floor for a YES vote before June 30th!
SB 185 with SA 1 will add this critically needed, additional, and sustainable spay/neuter revenue to our state Spay/Neuter Fund. The current fund, created in 2006, is funded by a rabies surcharge and is woefully insufficient to meet the needs of Delaware non-profit animal shelters, rescues and Good Samaritans state-wide to spay/neuter homeless animals. This new bill will help reduce animal suffering, protect the public from disease, and reduce nuisance complaints.
Delaware law requires all animals adopted out from shelters and rescues to be sterilized before adoption (with a few exceptions); however, there is no state funding to cover these costs which amount to over $500,000 annually.
The Delaware Office of Animal Welfare reports that due to the shortage of funds, the requests for funding from non-profit animal welfare organizations greatly exceed what they are granted. For instance, in just the 2nd quarter of 2021, the requests from shelters/rescues exceeded the amount granted by $170,000.
The additional funding from this bill will provide much-needed support for Delaware shelters, rescues, Good Samaritans, and our community statewide. Please ask your state representative to support SB 185 with SA 1.
The needs are great and together we can tackle this next challenge together.